The nautical activities,
for intimate sensations with Corsica
Extend the discovery of the coastline by boat with a more intimate exploration of its coves by paddle or go to the meeting of its sea bed with fins, masks and snorkel.

Stand-up paddle (SUP)
This recently appeared activity is nothing else than the ancestor of surfing.
The kings of Polynesia were the first to stand on wooden boards to move and used a paddle to propel themselves.
By calm sea, you will be able to stroll to discover the coast and its creeks in the closest.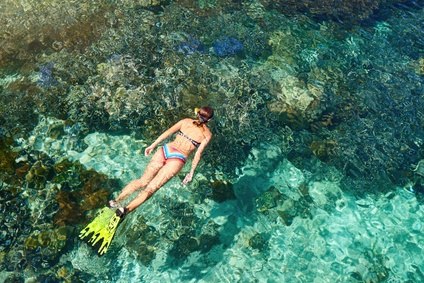 "Snorkeling" or "PMT" (Palm Mask Snorkel)
This sport activity will take you on walks to discover the marine environment near the surface.
For this, you will be provided with a diving equipment including fins, mask and snorkel.
The marine environment is fragile, so it is important to be careful not to touch the bottom with your fins or to take any samples.
The practice of nautical activities
Know how to swim and know your limits.
Wet your neck before going into the water, especially in hot weather, to avoid hydrocution.
Make sure you are well protected from UV rays: clothing, cap, sunscreen...
Wear neoprene clothing (against the cold) adapted to the weather conditions.
Wear a suitable buoyancy vest.
It is advised never to go alone.
Inform the captain of the site you wish to go to and the time you intend to spend there.
Check with the captain if the weather and sea conditions are compatible with the site where you plan to go (wind direction, current, waves, water temperature, ...)
Report all accidents to the captain.
Medical certificate of aptitude for the practice of the towed buoy.
Do you have questions about your trip?
Don't be left without an answer,
Would you like to realize your dream trip on board the catamaran "MeHo"?